The La Sonrisa story can be traced back to the 1970s at a small college in Pueblo, Colorado. An ambitious young student, Tom,  meets a rugged political science professor, Wally,  who would become Tom's life-long mentor, advisor, and business partner. Their 40+ year friendship is the foundation of La Sonrisa cigars.
Long after their college years ended, Tom and Wally's friendship expanded as did their families, friends and travel experiences. In new ways, Wally mentored Tom and his late wife, Charlotte, as they raised their daughters, Amy and Ali. In addition to similar interests and political persuasions, Tom, Charlotte and Wally shared great pleasure in smoking fine cigars!  Wally enjoyed his cigars with single malt scotch, Charlotte with Crown Royal, and Tom with Tanqueray and tonic. Although Wally and his wife, Sharon, lived in Colorado and Tom and Charlotte lived in Arizona, the four gathered every year, somewhere around the world, and enjoyed fine cigars.
Sharon and Wally's travels took them to Nicaragua in the 90s.  After several return trips, they bought "The Farm" –  Los Genizaros" named for the beautiful shade trees on the property. A 3rd-generation Colorado rancher, Wally grew up breaking broncos, driving cattle, and tilling soil. When a farm hand suggested planting tobacco, Wally enthusiastically dedicated a field to the effort.  Early on, it was clear that the soil of Grenada couldn't beat the fertile Nicaraguan tobacco fields of Esteli, Jalapa and Condega. The Farm's tobacco field was growing a different crop. Charlotte and Tom visited and smoked some really bad Farm cigars with Wally, fully aware that only 2-hours away some of the finest tobacco in the world grew.
Many great cigars were enjoyed during the next few years, then in 2014 life took an unexpected turn and Charlotte lost her life.  Wally, Sharon and Tom decided to create a cigar for women in Charlotte's name. They looked no further than the fertile Nicaraguan fields of Esteli, Jalapa and Condega for their tobaccos. They looked no further than Granada for their Blend Master, Silvio Martinez.  Silvio created the mild Charlotte blend in petite corona, corona and robusto styles.  While creating Charlotte's blend, Tom tapped into Silvio's talents and asked for a mid-medium strength Wally blend in Churchill, toro, and torpedo styles.  The new family of exceptional Nicaraguan ciagars was aptly named La Sonrisa (The Smile), in memory of Charlotte's radiant smile.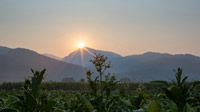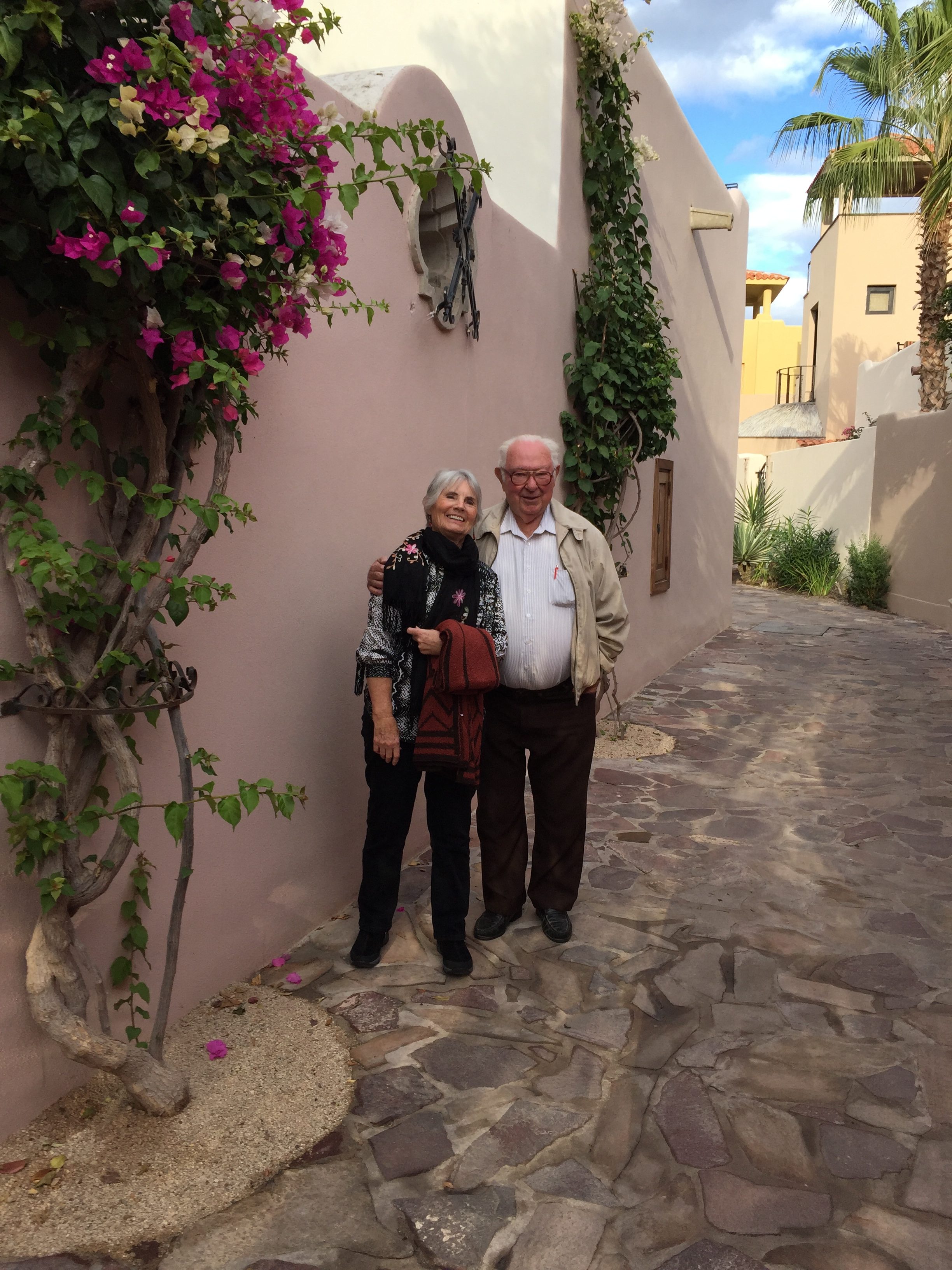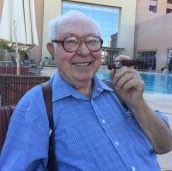 HOW WE ROLL…OUR CIGARS…from the beginning
The Tobaccos…
The first step in the process of creating our fine, premium hand-rolled cigars is the selection of the tobaccos.  We start with tobaccos that are a combination of Nicaraguan and Cuban blended seed. We select only tobaccos that have been aged for a minimum of one year and from the enriched soil areas of Esteli, Jalapa, Condega and the volcanic region of Ometepe Island.  Our wrappers are sun-grown tobaccos from Ecuador and Nicaragua Jalapa.
Blending of Tobaccos…
One of the most crucial steps in the hand making process of premium cigars is the blending various tobaccos that will produce the flavor, strength and consistency of our fine cigars.
Cigar Making Process…
All of our cigars are hand-rolled in Nicaragua.  Since their climate is very humid, we maintain the moisture under control with dehumidifiers for the fillers.  We dry the tobaccos in climatized rooms.  The fillers are stored in climate controlled rooms of 72 degrees and 14% humidity.
The filler leaves are rolled by a pair of rollers sitting together at a rolling table, a Bonchero and Torcedor.  The Bonchero makes an "S" shape with each tobacco leaf.  This will provide the best draw and even burn of the cigar.  Once the body of the cigar (the "bonche") has been rolled it ready to be pressed into the length and ring size.  The bonche is placed in molds and pressed for about an hour.
Once the bonche has been pressed it is ready to have the wrapper rolled.  The wrapper tobacco is moistened and stored over night in a dark room.  Each wrapper leaf is moistened carefully and hung up on a wire and kept in a dark room to make the wrapper more pliable.
The selection of the wrappers come early in the morning.  Each leaf is separated in size, color, and texture.  Once the wrappers have been selected they are then rolled over the filler and binder to produce our premium cigar.
Cigar Inspection and Quality Control…
We inspect each cigar after it comes out of the presser molds.  We also run each of our cigars through our Draw Master machine. Unlike most cigar manufacturers who run only random number of cigars through the draw machine, each of the La Sonrisa cigars is measured by the draw machine.  If the cigar passes this inspection, the Rolera will roll the cigar with the delicate wrapper and finish it for final inspection.  At this point our cigar master will look for imperfections such as soft spots, poorly constructed bondy, green spots or wrappers with some other imperfections.  If the cigar doesn't pass this visual inspection for color and texture consistency, it will be put into the seconds bin and not packaged.  We will not sell a La Sonrisa cigar unless it has passed our rigid quality control process.
Aging the cigars…
Although aging cigars is a long process, it is an important for it to mellow into a unique blend which is smooth and rich.  Our cigars rest for approximately six months in our climate controlled humidors consisting of about 70 degrees and 70 percent humidity.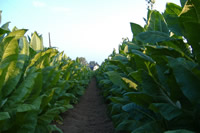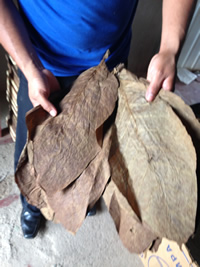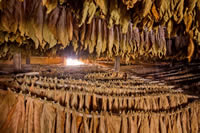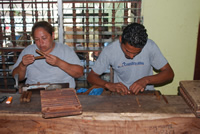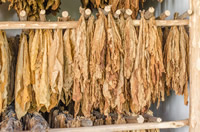 Nicaraguan Tobacco
Nicaragua is located in Central America, south of Honduras and north of Costa Rica.  It is known for its rich, fertile soils which makes it one of the best regions of the world for growing tobacco plants.  The climate in Nicaragua is extremely favorable for growing tobacco.  As a result, tobacco export and cigar manufacturing is one of largest industries in the country.
The cigar industry in Nicaragua began in the late 1950's when the Cuban cigar industry was nationalized by the Castro regime and many of the finest Cuban cigar makers fled in exile.  Many of those Cuban producers found ideal growing conditions in Nicaragua and brought with them their trade and their tobacco seeds to this new land.  After several years of civil unrest in the late 1970's and through the '80s, the cigar industry was reestablished in 1990 and once again began producing its world famous cigars.
Similar to wine regions for growing a variety of different grape vineyards recognized for their individual qualities, so are tobacco regions in  Nicaragua. There are four major tobacco growing regions in Nicaragua — Esteli, Condega, Jalapa and Ometepe.  Each of these regions possess different soil and climatic conditions which give its tobacco varying characteristics.
Esteli is the second largest city in Nicaragua and is located in the northwestern part of the country near the Honduran border.  It is the home of most of the cigar producers in the country.  The Esteli region has a black and fertile soil that produces a heavy, full-flavored tobacco leaf.  The tobacco from this region is dark, and rich with full aromas, body and flavor.  It is known for producing the strongest tobacco for use in cigars.
The Condega valley is further north of Esteli.  It has many tobacco fields and is the home of several cigar manufacturers.  Condega's soil is rocky.  Tobacco from this region is mostly sun-grown and yields a thinner leaf because of the heavy cloud cover one the area.  Tobacco from this region is generally used for filler and binder tobacco.  The area also produces oily and elastic leaves with rich colored that are excellent for wrappers.  Tobaccos grown in this area produce the second strongest tobaccos in Nicaragua.
Jalapa is also located northeast of Esteli and along the border of Honduras.  The Jalapa Valley is remote and access to the region may be difficult to get to.  Jalapa's fertile soil is heavy with red clay, which produces a very smooth, elegant and rich tobacco.  Tobacco grown in Jalapa are not as strong as Esteli and considered to be sweeter.  It is known for producing beautiful wrappers. The tobacco is thought of as very flavorful, and unique due to the rich and complex aromas it creates.
Ometepe is a volcanic island located in Lake Nicaragua.  It is near the city of Granada.  This island was created by the twin volcanos called Concepcion and Medera.  The Concepcion volcano is still active.  On this island the soil is extremely fertile, which makes it unique and allows for perfect conditions for growing tobacco.  The tobacco grown from this region is described as sweet and uniquely spicy.  Tobacco from Ometepe is similar to Jalapa, but known to have more strength and depth in the smoke, differentiated by its sweetness.
Many cigar aficionados agree that Nicaragua is one of the best tobacco producing countries in the world.  Many of the long-standing manufactures based in the Dominican Republic have now established a presence in Nicaragua.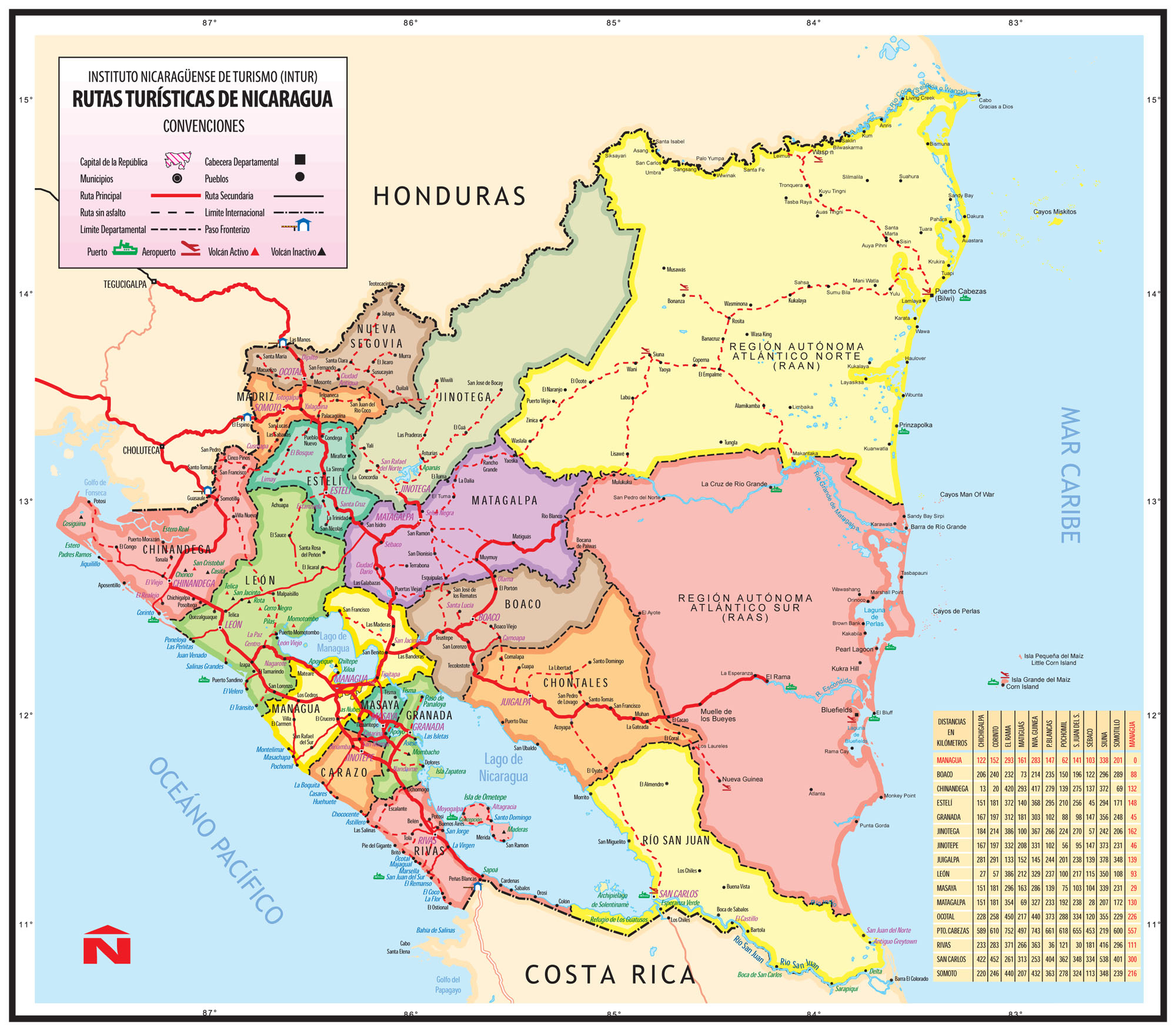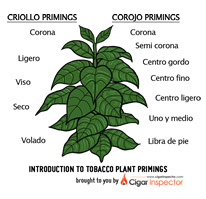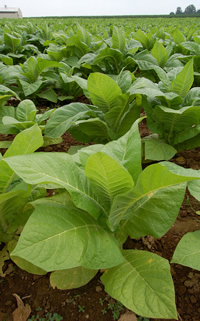 In Memorium: Wally Stealey, Co-Founder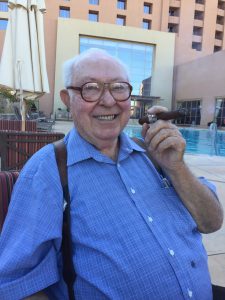 Wally Stealey, co-founder of La Sonrisa Cigars, passed away in October 2017. As one of the original founders of La Sonrisa Cigars, Wally took the cigar brand from concept to reality 3 years earlier. Wally had a passion for cigars and politics. He began his professional career as a college professor teaching Political Science in several colleges in Arkansas and Colorado. After teaching for about 20 years, Wally left the classroom and began his career as a successful lobbyist in Colorado. During that part of his career, he became one of the most influential persons in Colorado politics for over 40 years.
Wally was also drawn to the soil through his Western roots and cowboy upbringing. He was known for his ruggedness and earthy style in appearance and approach. His cowboy boots, suspenders and cowboy hat were his trademark. Around the halls of the state legislature, he was known "the cowboy with an education".
As a cigar enthusiast, Wally understood the significance of the soil in the making of a good cigar. The fertile regions of Esteli, Jalapa, and Condega, Nicaragua attracted him to this area of the world. He and his wife, Sharon, were so captivated by the area that they purchased and home and working farm in Granada, Nicaragua in 2005. Along with one of his former students and long-time friend, Tom Hocking, they decided that their passion for cigars should be shared with the rest of the world by making Nicaraguan cigars. So together in 2014 they began their journey to produce the finest premium hand-rolled cigars anyone will find. Wally always had a cigar in his hand.
Wally left us too early in this journey. But we are dedicated to carrying on with his love and passion to produce a quality smoke that will make you smile. His wisdom, brilliance, humor, captivating story telling, and ability to make everyone feel welcome are just a few of the many things we will miss about Wally.
Tom Hocking, Co-founder & President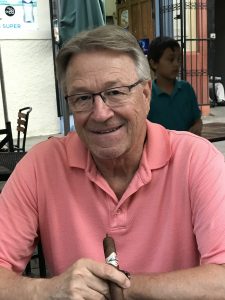 Tom Hocking is a co-founder of La Sonrisa Cigars. He is the President and Chief Executive Officer of La Sonrisa Cigars (US) and (Nicaragua) and AZCO Importers LLC.  Tom partnered with Wally Stealey to form the company in 2014. Their relationship dates back to Tom's days in college. Wally was his college professor and graduate advisor. Since graduation many years ago, they had maintained their friendship as well as a shared love for a great cigar.
After graduation, Tom and his wife, Charlotte, moved to Arizona, but still stayed in contact with Wally and Sharon. They would often travel together to Nicaragua. While enjoying the culture and cuisine of the country, Tom and Wally found the perfect place to cultivate their interest in making a great cigar. Thus, the story of La Sonrisa Cigars began.
Prior to establishing the Tom became a public finance official and investment banker for approximately 25 years. In 2001, he formed is own municipal financial advisory consulting firm. Then in 2014, Tom and Wally decided to take their love of cigars to the next level and created La Sonrisa Cigars.
Sharon Stealey, Co-owner
Sharon Stealey, the widow of La Sonrisa Cigars co-founder, Wally Stealey, never imagined a cigar company would be added to her lifetime of varied vocations and avocations.  She has served as secretary, Administrative Assistant, and aide to Lt. Governor of Colorado, Nancy Dick while farming and ranching her cherished Colorado homes.
Soon after meeting Wally, Sharon left her parent's dairy farm to become the wife of this rancher and marine. While Wally finished his PhD, Sharon put her college career on hold before returning to Ft. Lewis State College to earn her degree.
Today, Sharon manages the agricultural operations of her Colorado farm, is writing a novel, enjoys music, singing and reads at least 4 books a week. Sharon remains involved in local and state politics and is recognized for her work with local charities.
Silvio David Martinez, Master Blender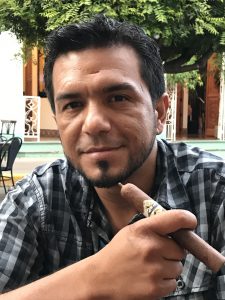 Silvio has been with La Sonrisa since its inception in early 2015 as Master Blender and creator of our premium cigars. He and his family live in Granada, Nicaragua. Prior to joining La Sonrisa, Silvio worked for another cigar manufacturer located in Granda. Cigar making is Silvio's passion. Silvio is always looking to create new blends of premium cigars.
…in his own words…
"I started working in the cigar industry about ten years ago, and from the first cigar I lit up I knew at that moment that making fine cigars is what I wanted to do my whole life. The industry itself is so passionate, the quality of the tobaccos in my home country, Nicaragua, is so unbelievable. The pleasure to sit back, relax and enjoy a premium hand-crafted cigar simply overwhelmed me. Making cigars is my passion!!."
"Making great cigars involves not only blending tobaccos but also feeling the veins and texture of the leaves. It is about the feeling, the passion and the recognition of high quality tobaccos that my country produces. The cigar experience starts with the seed, the volcanic soils, the fermentation, the aging of the tobaccos and finally the process of making cigars in the factory. Knowledge of each step in the process of making cigars with pure Nicaraguan tobaccos fulfills my passion of delivering the best cigars in the world."

AZCO Importers LLC  (AZCO) is licensed by the Alcohol and Tobacco Tax and Trade Bureau (TTB) in the U.S. as a registered tobacco importer.  AZCO is the exclusive importer of La Sonrisa cigars from our manufacturing operation located in Granada, Nicaragua.  AZCO was created in 2014 and is the parent company of our other subsidiaries, including La Sonrisa Cigars (US) and La Sonrisa Cigars, S.A. (Nicaragua).  AZCO manages the business operations of the manufacture, distribution and sales of the family of La Sonrisa cigars.
The principal office location of AZCO Importers LLC is:
3509 E. Shea Blvd, Suite 110
Phoenix, AZ 85028
AZCO Importers LLC officers are:
Tom Hocking, President
Scottsdale, AZ
Tom@LaSonrisaCigars.com
Sharon Stealey, Vice President
Pueblo, CO
Sharon@LaSonrisaCigars.com
La Sonrisa Cigars was created in 2015 by its co-founders Wally and Tom.   It is registered in the states of Arizona and Colorado.  La Sonrisa is headquartered in Phoenix, AZ and has another office in Pueblo, CO.  The primary purpose of the company is to distribute and sale our family of La Sonrisa cigars, The Charlotte, the Wally and Victory cigars.  The company is a subsidiary of AZCO Importers LLC, which exclusive importer of our cigars.  La Sonrisa Cigars is a member of the Premium Cigar Association (PCA), Cigar Rights Association (CRA) and several other state and local associations and groups.  The company also has an affiliation with Charlotte's Way Foundation, a non-profit established to improve the reading skills of at-risk children.
The principal office location of La Sonrisa cigars is:
3509 E. Shea Blvd, Suite 110
Phoenix, AZ 85028
La Sonrisa Cigar officers are:
Tom Hocking, President & CEO
Scottsdale, AZ
Tom@LaSonrisaCigars.com
Sharon Stealey, Co-Owner
Pueblo, CO
Sharon@LaSonrisaCigars.com
 La Sonrisa Cigars, S.A. (Nicaragua)
La Sonrisa Cigars, S.A. (Nicaragua) was established in 2016 in Granada, Nicaragua.  The primary purpose of the company is to manufacture and export hand-made premium cigars for La Sonrisa Cigars (US).  This company is operated by our master blender, Silvio David Martinez.  It is headquartered in Granada, Nicaragua.  Located only three hours from Esteli, Granada is centrally located in the tobacco region Nicaragua. Our tobaccos are selected from the finest tobaccos from Esteli and the Jalapa regions of Nicaragua.  La Sonrisa Cigars, S.A. controls the entire process of tobacco selection, blending, rolling, aging and quality control in the manufacture of our premium cigars.  La Sonrisa does not acquire cigars from any other manufacturers, unlike many other cigar brands in the industry.
Other La Sonrisa Cigars, S.A.officers are:
Silvio David Martinez, Blend Master
Granada, Nicaragua
Silvio@LaSonrisaCigars.com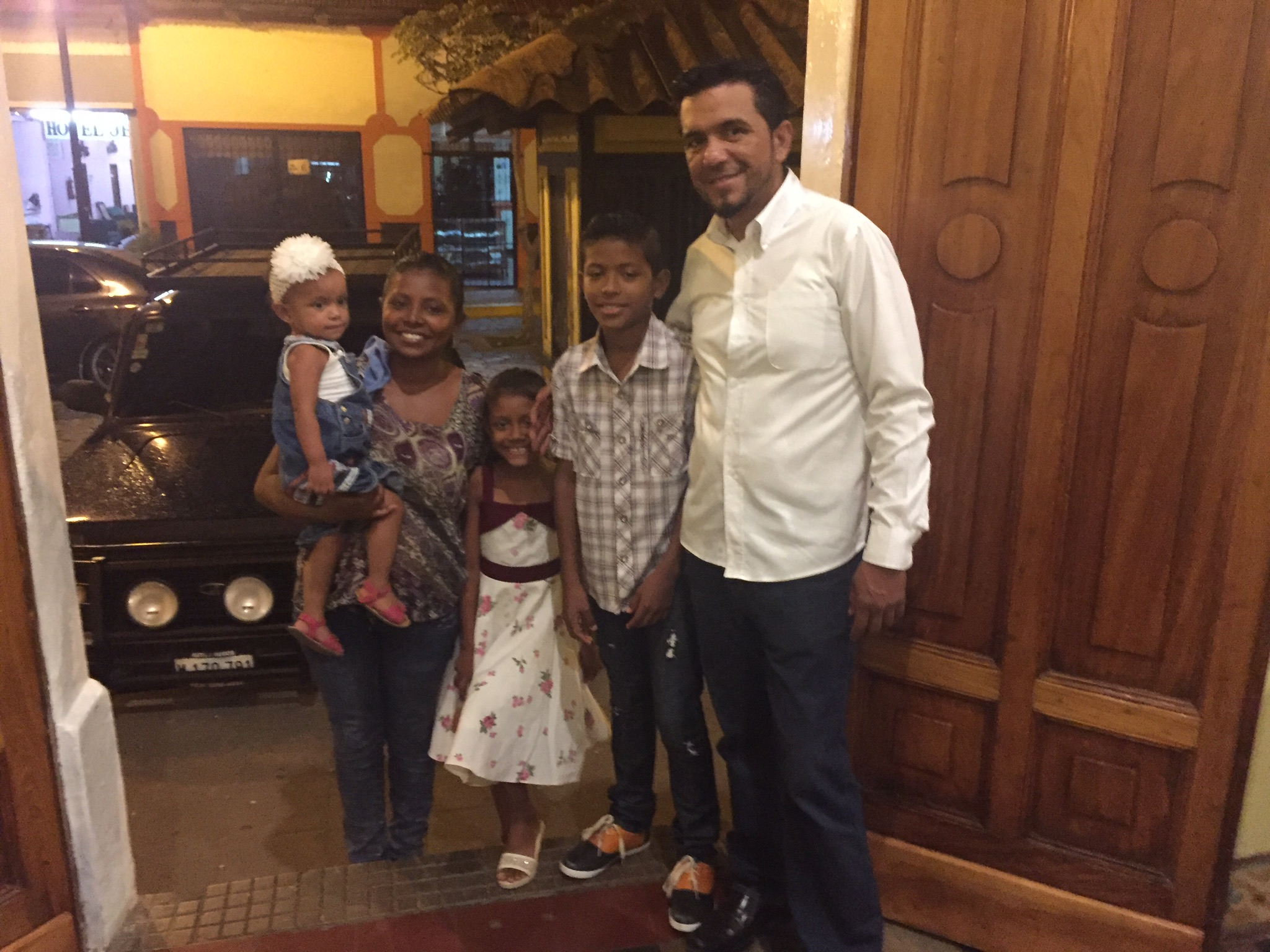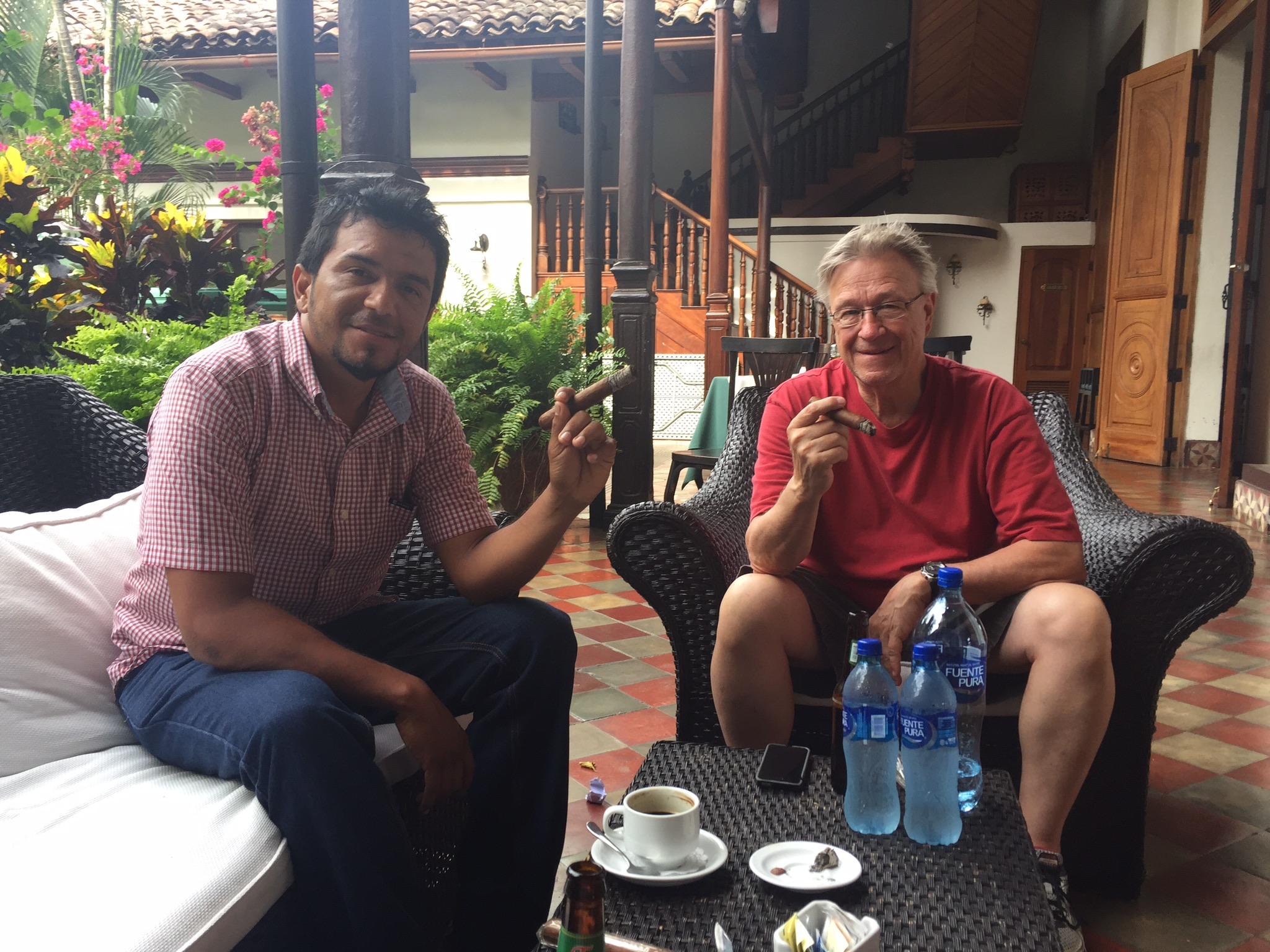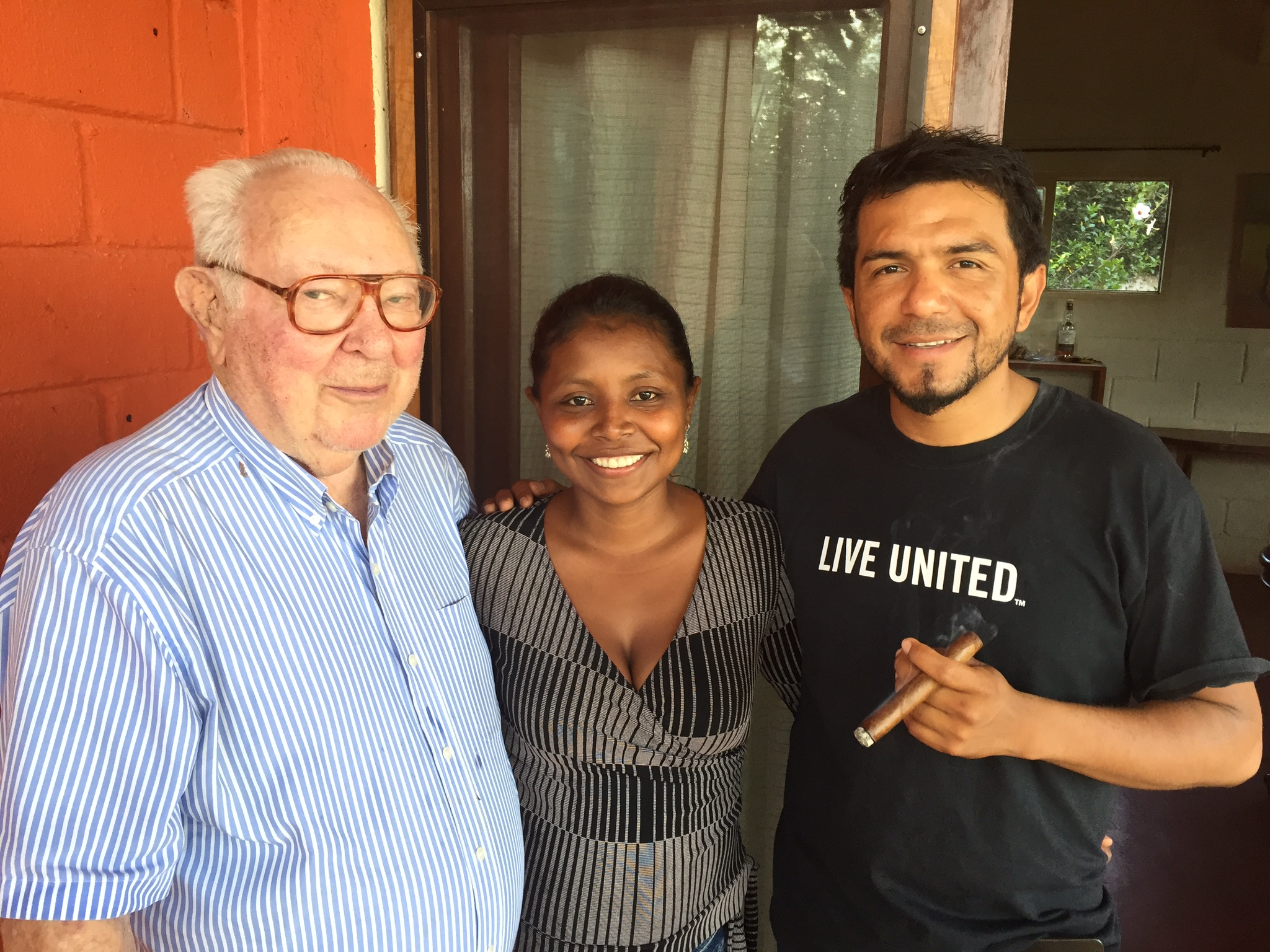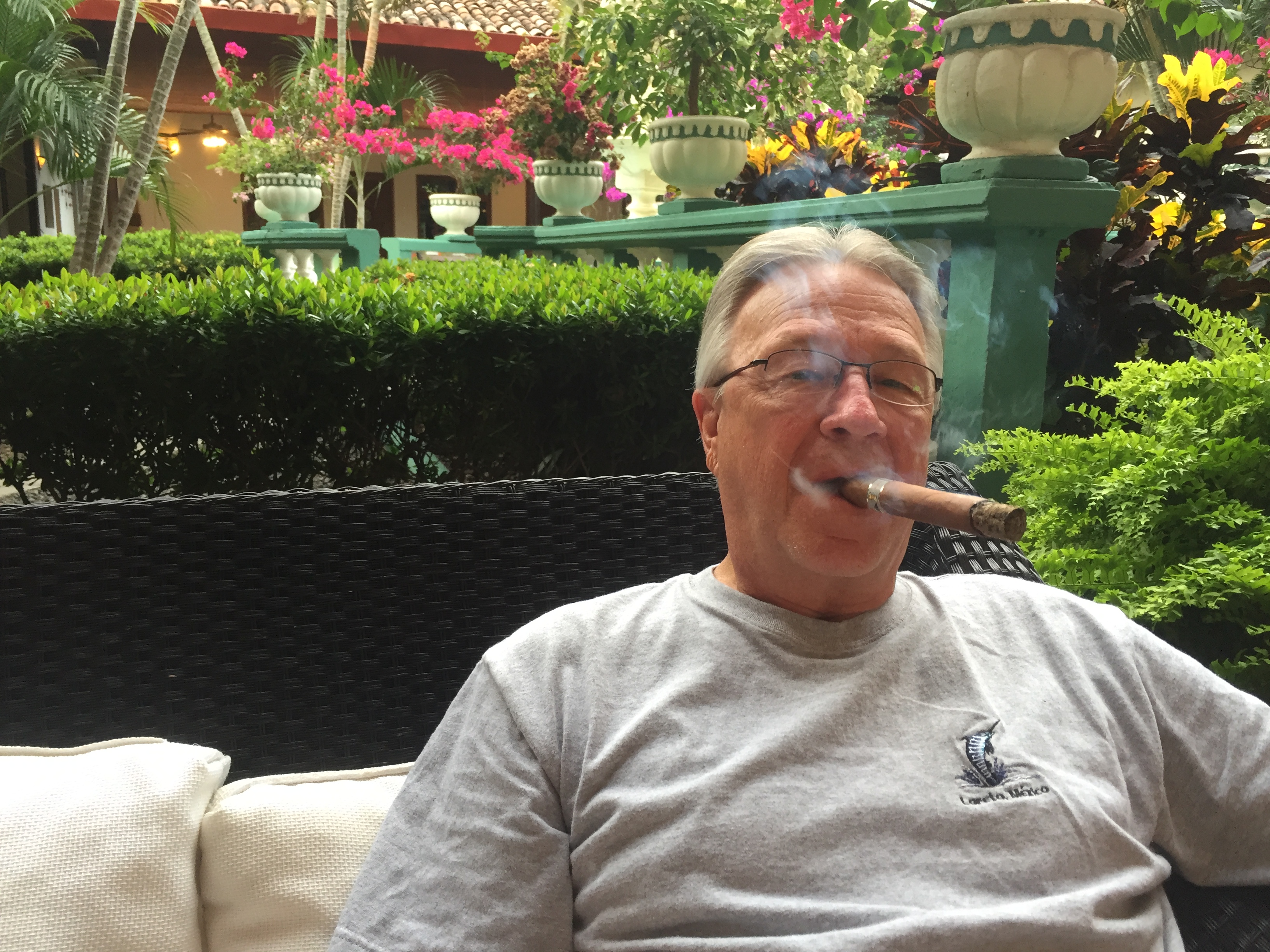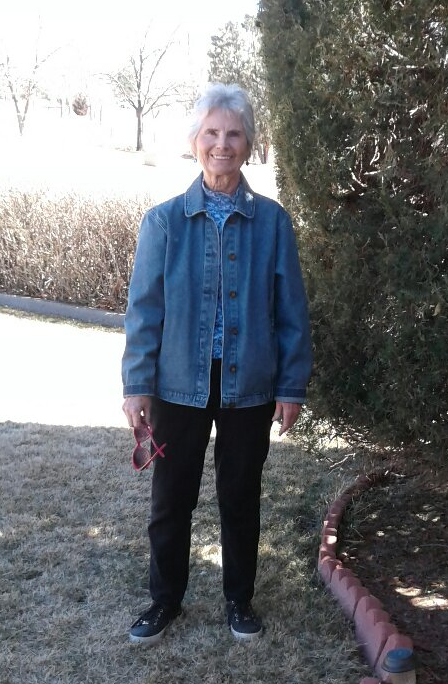 A draw test machine is the device shown below that we use to assure consistent ease of each draw from your cigar. When a cigar is rolled too tightly, drawing can be difficult, resulting in a less-than-perfect smoking experience. At La Sonrisa, we draw tests each cigar before the wrapper is applied.
These are our two (2) simple draw test quality requirements: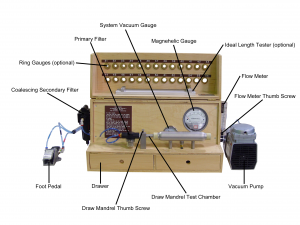 #1: Draw test results are measured, not assumed, to have draw pressure per square inch (PSI) between 40 and 60.
#2: To perform the draw test prior to adding the valuable outside wrapper. The wrapper would be lost because a poor-drawing cigar must be disassembled and re-rolled by hand. The eliminated waste reduces the cost per cigar, savings realized by our customers.