In Memorium
Wally Stealey, Co-Founder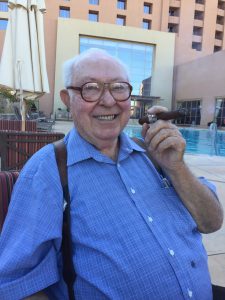 Wally Stealey, co-founder of La Sonrisa Cigars, passed away in October 2017. As one of the original founders of La Sonrisa Cigars, Wally took the cigar brand from concept to reality 3 years earlier. Wally had a passion for cigars and politics. He began his professional career as a college professor teaching Political Science in several colleges in Arkansas and Colorado. After teaching for about 20 years, Wally left the classroom and began his career as a successful lobbyist in Colorado. During that part of his career, he became one of the most influential persons in Colorado politics for over 40 years.
Wally was also drawn to the soil through his Western roots and cowboy upbringing. He was known for his ruggedness and earthy style in appearance and approach. His cowboy boots, suspenders and cowboy hat were his trademark. Around the halls of the state legislature, he was known "the cowboy with an education".
As a cigar enthusiast, Wally understood the significance of the soil in the making of a good cigar. The fertile regions of Esteli, Jalapa, and Condega, Nicaragua attracted him to this area of the world. He and his wife, Sharon, were so captivated by the area that they purchased and home and working farm in Granada, Nicaragua in 2005. Along with one of his former students and long-time friend, Tom Hocking, they decided that their passion for cigars should be shared with the rest of the world by making Nicaraguan cigars. So together in 2014 they began their journey to produce the finest premium hand-rolled cigars anyone will find. Wally always had a cigar in his hand.
Wally left us too early in this journey. But we are dedicated to carrying on with his love and passion to produce a quality smoke that will make you smile. His wisdom, brilliance, humor, captivating story telling, and ability to make everyone feel welcome are just a few of the many things we will miss about Wally.
Tom Hocking, Co-founder & President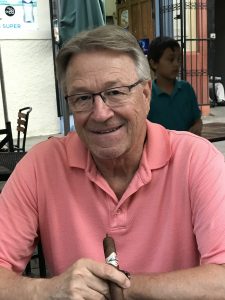 Tom Hocking is a co-founder of La Sonrisa Cigars. He is the President and Chief Executive Officer of La Sonrisa Cigars (US) and (Nicaragua) and AZCO Importers LLC.  Tom partnered with Wally Stealey to form the company in 2014. Their relationship dates back to Tom's days in college. Wally was his college professor and graduate advisor. Since graduation many years ago, they had maintained their friendship as well as a shared love for a great cigar.
After graduation, Tom and his wife, Charlotte, moved to Arizona, but still stayed in contact with Wally and Sharon. They would often travel together to Nicaragua. While enjoying the culture and cuisine of the country, Tom and Wally found the perfect place to cultivate their interest in making a great cigar. Thus, the story of La Sonrisa Cigars began.
Prior to establishing the Tom became a public finance official and investment banker for approximately 25 years. In 2001, he formed is own municipal financial advisory consulting firm. Then in 2014, Tom and Wally decided to take their love of cigars to the next level and created La Sonrisa Cigars.
Sharon Stealey, Co-owner
Sharon Stealey, the widow of La Sonrisa Cigars co-founder, Wally Stealey, never imagined a cigar company would be added to her lifetime of varied vocations and avocations.  She has served as secretary, Administrative Assistant, and aide to Lt. Governor of Colorado, Nancy Dick while farming and ranching her cherished Colorado homes.
Soon after meeting Wally, Sharon left her parent's dairy farm to become the wife of this rancher and marine. While Wally finished his PhD, Sharon put her college career on hold before returning to Ft. Lewis State College to earn her degree.
Today, Sharon manages the agricultural operations of her Colorado farm, is writing a novel, enjoys music, singing and reads at least 4 books a week. Sharon remains involved in local and state politics and is recognized for her work with local charities.
Silvio David Martinez, Master Blender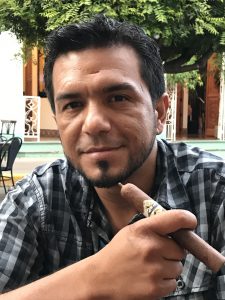 Silvio has been with La Sonrisa since its inception in early 2015 as Master Blender and creator of our premium cigars. He and his family live in Granada, Nicaragua. Prior to joining La Sonrisa, Silvio worked for another cigar manufacturer located in Granda. Cigar making is Silvio's passion. Silvio is always looking to create new blends of premium cigars.
…in his own words…
"I started working in the cigar industry about ten years ago, and from the first cigar I lit up I knew at that moment that making fine cigars is what I wanted to do my whole life. The industry itself is so passionate, the quality of the tobaccos in my home country, Nicaragua, is so unbelievable. The pleasure to sit back, relax and enjoy a premium hand-crafted cigar simply overwhelmed me. Making cigars is my passion!!."
"Making great cigars involves not only blending tobaccos but also feeling the veins and texture of the leaves. It is about the feeling, the passion and the recognition of high quality tobaccos that my country produces. The cigar experience starts with the seed, the volcanic soils, the fermentation, the aging of the tobaccos and finally the process of making cigars in the factory. Knowledge of each step in the process of making cigars with pure Nicaraguan tobaccos fulfills my passion of delivering the best cigars in the world."